It seems I have a bit of a thing about elderly men. That's not nearly as dodgy as it sounds. Let me explain. Whilst researching for my first novel, The Poet's Wife, I was lucky enough to interview a gent in his 90's by the name of Bob Doyle not long before he died in 2009. Bob was an Irish activist and veteran of the International Brigades as well as the second world war. I remember hobbling to his house in North London (I was on crutches following a bad skiing accident) on a freezing cold day, and we sat in his front room with our breath crystallising before us whilst he told me what inspired him and his friends to leave behind everything they knew to go and fight for another country's cause. The way he told it, it all made perfect sense. And listening to him talk that afternoon with a passion in no way diminished after seventy years, it was impossible not to ask myself the question, If I was alive in the 1930's, would I have been brave enough to do the same? (Because yes, many women also went to Spain from around the world). In many ways, Bob was the inspiration for my character Henry in The Poet's Wife and Bob, too, married a Spanish woman he met whilst in Spain.
Click here to read more about the revolutionary Bob Doyle who rode a motorbike well into his eighties around London and was a vociferous advocate for the legalisation of cannabis, growing it in his London greenhouse.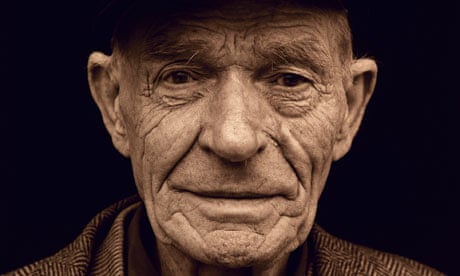 Bob Doyle, 1916-2009
Here in Kenya, working on my second novel, I've been to chat to a couple of fascinating men (again, both in their nineties). Major Paddy Deacon has the most astonishing memory and was able to recall names, dates and places quite easily, chiding himself when his memory momentarily lapsed. He has been blind for several years, but this serves to only make him more finely attuned to every sound around him, not missing a single word I said. Paddy came to Kenya with his young family in the early 1950's to serve in the Kenya Regiment. This was a period of enormous social and political turmoil in colonial Kenya with the Mau Mau guerillas trying to reclaim their land from the wazungu (white people) and punish those Kenyans who remained loyal to the British crown and government. Many of the Mau Mau hid in caves and forests of the Aberdares region and Paddy's remit was to go into the forest to root them out. He had to employ the undercover tactics of the Mau Mau, going without food for days, sleeping beneath trees and tracking the dense wilderness to discover where these men vanished to.
On the other side of this, last week I met Edward Njenga. Edward, from the Kikuyu tribe, does not know how old he is because at the time he was born, the date of birth was not important but rather which circumcision group children fell into. But he knows he is over ninety. Edward was never enlisted into the Mau Mau (unlike thousands of Kikuyu who had to undergo forced oathing and loyalty to the Mau Mau cause), yet despite this he was sent to a detention camp (under the British colonial government) where he remained for two years. The treatment he and his fellow Kikuyu were subjected to there was horrifying, yet Edward incredibly bears no grudge, cheerfully telling me that he 'regrets nothing'. He was, however, one of the lucky ones. For it was discovered that he had a talent for art and he was taken from the detention camp by the Quakers to work at a youth centre in Nairobi. Fast forward sixty odd years, Edward is one of Kenya's most successful and well known scupltors, his work fetching thousands of pounds. When I met him in his studio, his hands did not stop for a second, modelling a mother and child. 'I have a vision,' he told me 'and then I just chip away from the clay or wood the parts I don't need.' That simple, right? He said he had been blessed because whilst he might be a little deaf (we had a few communication problems!), his eyes had never failed him, allowing him to continue working.
Edward Njenga
Langata Mau Mau Detention Camp. Edward scuplted this in 1970, nearly 20 years after he was interned in the camp, a testament to what he describes as his 'photographic memory.'
Another of Edward's pieces, entitled 'I love you but' (1970)
How amazing and humbling to have met these three elderly gentlemen, overflowing with knowledge and wisdom and stories that must not be forgotten. I have another man lined up (again, in his nineties, naturally!), an Indian man whose grandfather was Nairobi's first shoemaker. He sounds like quite a character who whizzes around Nairobi still at breakneck speed in his car. No doubt you'll be meeting all these characters again in one way or another in my next book. Watch this space…
https://rebeccastonehill.com/wp-content/uploads/IMG_27171.jpg
266
500
Rebecca Stonehill
http://rebeccastonehill.com/wp-content/uploads/mtbsdpgw.bmp
Rebecca Stonehill
2015-04-04 17:19:45
2015-04-04 17:19:45
Keeping the stories alive