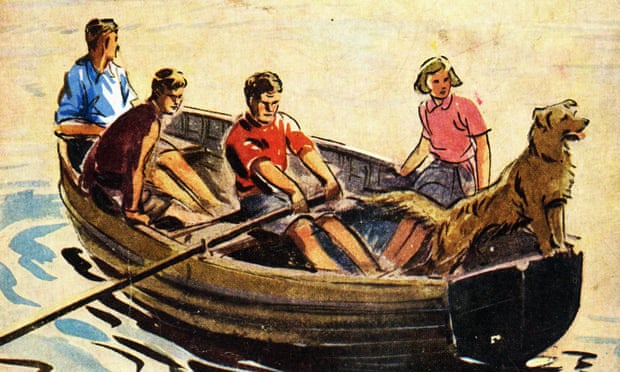 Lauded and loathed in equal measure, since the 1950's Enid Blyton's books have been banned from many schools, libraries and homes for being anachronistic, sexist, xenophobic, elitist and racist, not to mention accusations of relentlessly recycled stories, hollow plots and Blyton herself being a ruthless self-promoter whilst exploiting her own children. Despite this, Blyton has entertained millions of children across the globe for generations with her tales of adventure, mystery and derring-do. And love or hate her, none of us can deny Blyton's enduring appeal. Over the course of her career, she wrote a staggering 10,900 stories and plays and even today, her books are more likely to appear on children's bookshelves than any other.
Blyton was born in 1897 late Victorian London to Theresa and Thomas, a cutlery salesman whom she adored and was very close to, introducing her to the joys of nature. When was was 13, he left the family to go and live with another woman, leaving his eldest child devastated, particularly as she had never enjoyed a good relationship with her mother. Several decades later, Blyton's granddaughter Sophie Smallwood (who was born two years after Blyton's death and who, in 2008 wrote Noddy and the Farmyard Muddle) explains that this traumatic childhood experience meant that her emotional and physical development froze at this vital point, on the cusp of womanhood, '…which is why her writing is that of an intelligent 12-year-old…In my view that's why adults find it difficult to relate to her because she doesn't quite have the depth; it has that childlike quality."
At the same time as her father leaving, Blyton suffered from a gynaecological condition which meant her womb stopped growing and she was only able to have children later in life due to hormonal treatment. 'Her success,' says James Hawes (director of 2009 film Enid starring Helena Bonham Carter), and what was wrong with her life, seem to come from exactly the same place. This is armchair psychology, but she did in some way come to an emotional halt at that point and some part of her did stay forever young." Helena Bonham Carter says of the character she played: 'She was unbelievably modern. She was a complete workaholic, an achievement junkie and an extremely canny businesswomen. She knew how to brand herself, right down to the famous signature.'
Blyton excelled at school on the sports field and was a popular girl, though did not shine academically with the exception of her strong writing. She trained as a teacher and moved around a lot, all the while trying to get her short stories and poetry published and often being rejected:
"It is partly the struggle that helps you so much, that gives you determination, character, self-reliance – all things that help in any profession or trade, and most certainly in writing."
Her first book, Child Whispers – a collection of poems – was published in 1922. It was illustrated by an old schoolfriend who collaborated on many of her early works with her. Two years later, she married Major Hugh Alexander Pollock, inviting neither of her parents nor her brothers to the wedding. Pollock was editor of the book department that became Blyton's publisher but theirs was not a happy union.
Two daughters were born and one miscarriage suffered, but Pollock withdrew increasingly from public life and began to drink more and more. By WW2, he had embarked on a relationship with a  young writer, even installing her at his Home Guard office as his secretary. It is thought that Blyton herself then embarked on a series of extra-marital affairs, culminating in the relationship with Kenneth Fraser Darrell Waters, a London surgeon whom she eventually married after a divorce from Pollock. Blyton knew what a scandal her affair would cause to the public and, ruthlessly devoted to her self-image, forced Pollock to agree to a divorce on the ground of his adultery. He relented, on condition he have access to his daughters, yet after the divorce had gone through Blyton made a point of making it extremely difficult for them to see him, virtually deleting him from her own and her daughters' lives.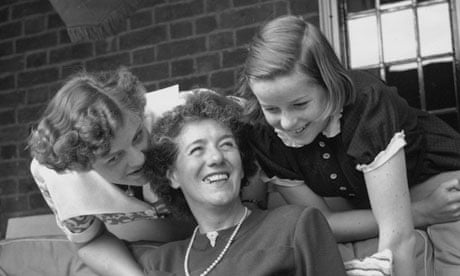 Blyton with daughters Gillian & Imogen
Suffering a further miscarriage after falling from a ladder, Blyton continued to write frenetically and it was not until 1960 that she began to show signs of dementia. She died in a nursing home in 1968 at the age of 71. More than twenty years later, her daughter Imogen published an auto-biography entitled A Childhood at Green Hedges, in which she describes her mother as 'arrogant, insecure, pretentious, very skilled at putting difficult or unpleasant things out of her mind, and without a trace of maternal instinct.'
By then, of course, it was far too late of Blyton to respond to such charges but it was widely cited that she was cruel to both her children and to her first husband, leading him to drift from her. Despite this, her other daughter Gillian disagreed with her sister, claiming 'She was a fair and loving mother, and a fascinating companion.' So was it, then, just a clash of character between Imogen and Enid or was Blyton really cruel to her children? Sophie Smallwood (the aforementioned granddaughter) stated in a 2009 interview that her mother and aunt were four years apart and shared completely different relationships with her grandmother. She felt that Enid was anything but maternal to her Imogen, and praises her mother's decision to write her auto-biography. Sophie says 'It was very fair and insightful. I think too it must have been very difficult to show the truth rather than accepting the assumption of a perfect mother because of the way that Enid wrote.'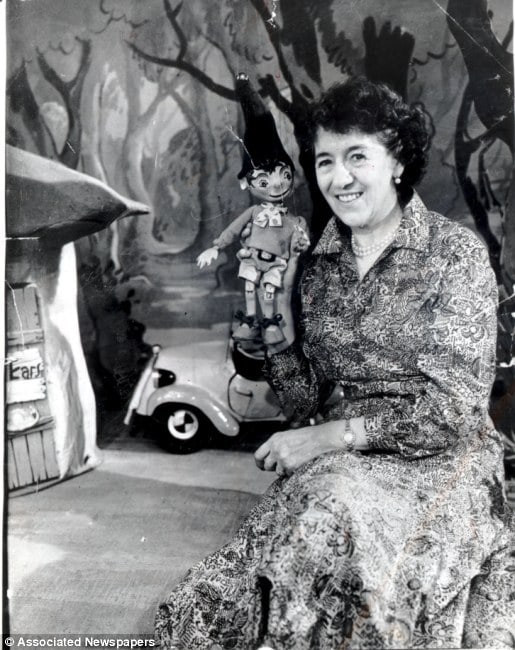 Today, racist and sexist connotations have been stripped out from Blyton's books, characters have morphed (Fanny is now 'Frannie') and slapping at Malory Towers has become scolding. Not only that, but highly accomplished children's illustrators such as Quentin Blake, Helen Oxenbury and Chris Riddell have designed beautiful, modern  covers for many of Blyton's books to appeal to new generations of children.
Anachronistic Blyton's books may well be, but their enduring appeal lies in their very escapist delivery. Did she write great literature? No, she did not. Are there superior books out there for today's children to read? Undoubtedly, yes. (Think: Morpurgo, Pullman & Riordan to name but a few.) Blyton herself was utterly disinterested in and scathing of her critics' opinions unless they were under the age of twelve. For a child to open a Blyton book is to be delivered into a simple, pre-computer game and blissfully adult-free world in which good always prevails over evil. It doesn't matter whether we read these books fifty years ago or last week, all children want independence (think Famous Five), all children want fantasy (think the Magic Faraway Tree & The Wishing Chair) and all children secretly want to sneak out in the middle of the night for fun, adventure and midnight feasts (think St.Clare's and Mallory Towers.)
Children's writers who think we should be reading Blyton along with other books: Michael Morpurgo, Jacqueline Wilson
Children's writers who don't: Michael Rosen, Anne Fine
What is your opinion of Enid Blyton after reading this and through anything else you know about her? I'd love to hear your comments.
For fans amongst you, particularly Magic Faraway Tree fans, you'll be excited to hear that it's currently being adapted for the big screen by Sam Mendes's film company. Not only that, but theatrical rights have been acquired for the Famous Five. Silky, Moonface, Timmy and George – here we come!
https://rebeccastonehill.com/wp-content/uploads/images-4.jpeg
172
294
Rebecca Stonehill
http://rebeccastonehill.com/wp-content/uploads/mtbsdpgw.bmp
Rebecca Stonehill
2016-02-11 12:03:32
2016-02-11 12:03:32
Uncovering Enid Blyton