Have you ever thought you'd like to subscribe to a magazine for your children, but something with a little more depth and less gender stereotyping than the average glossy mag that can be slipped into the shopping trolley at the supermarket?
Living in Kenya and not having access to any magazines for children at all, I have spent considerable time researching various publications for the Under-12's and have happily found three fantastic magazines for each of my kids that tick all the boxes and have all been a great success.
What would we, as parents, like to see in a magazine for children?
Engaging content, interesting enough to even draw parents in so we enjoy reading the magazine with our kids
Beautifully presented & illustrated, a bit different from that generic style common in so many kids'  magazines.
A combination of stories, puzzles, facts and activities to engage all the senses
Competitions
The kind of content that our kids wouldn't necessarily be learning at school
Ideas for further research e.g. You Tube videos, suggestions for further reading
Paper that can actually be coloured on (with many of the glossy mainstream mags, this is nigh on impossible)
What a brilliant monthly magazine this is. Suitable for children between the ages of 8 and 12, it is jam packed full of history, geography, maths, science, English and so, so much more. The illustrations are gorgeous and not only is there a pen friend club, but there is also always a double spread of fun and challenging puzzles, a story, a page for readers' letters and jokes. Each month there is a different theme for the magazine such as King Arthur, Memory, Reptiles & Mechanics of Music.
Clearly this is a magazine that is made with a huge amount of thought, humour and love. This is a perfect gift for any curious 8-12 year old out there. Well done Aquila!
Dubbed as  'Awesomely amazing science for kids', I couldn't agree more. This new monthly magazine targets children roughly between the ages of 6 and 11 to get excited about science in a fun, engaging and thought-provoking way. Past themes have taken in dinosaurs, weather and the moon and I have never seen my seven year old so enthused about their suggested science experiments. The antithesis of 'boring science' (which is what I had at school!), Whizz Pop Bang is guaranteed to have your child chomping at the bit to read, think, explore and experiment.
This bi-monthly publication is an Arts & Science magazine for 3 to 8 year olds. Packed full of imaginative activities, stories, games, colouring, doodles, recipes and poems and beautifully presented, it cannot fail to delight its readers. It is also 'hosted' by a small gang of quirky, lovable characters that guide you through the various activities. Past issues have included the themes of Holidays, Friends and Seasons and this magazine has hit the spot in every way with my five year old. Oh, and another big thumbs up for Okido for printing their issues on FSC paper, using biodegradable vegetable inks.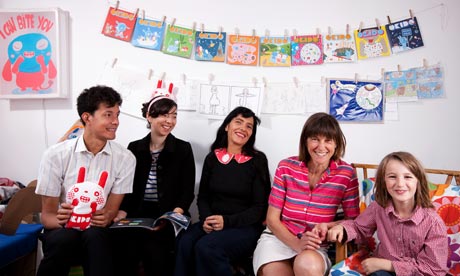 The family founders of Okido
Do you know of any other magazines I have missed off this list?
https://rebeccastonehill.com/wp-content/uploads/header_short_web.jpg
358
2000
Rebecca Stonehill
http://rebeccastonehill.com/wp-content/uploads/mtbsdpgw.bmp
Rebecca Stonehill
2016-01-31 11:35:59
2016-01-31 11:35:59
Three Fantastic Magazines for Children