'On clear, starry nights the Moon Man can be seen curled up in his shimmering seat in space. Every night from his drifting sphere, the Moon Man was filled with envy as he watched the earth people dance. "If only once I could join the fun," he thought. "Life up here is such a bore." One night a shooting star flashed by. The Moon Man leaped just in time to catch the fiery tale of the comet.'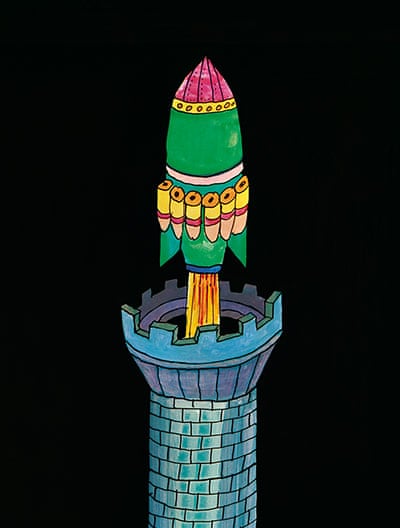 Ever since one of my children were given MOON MAN by Tomi Ungerer about five years ago, we were all hooked. Tomi Ungerer (from France but amazingly writes in French, German and English) is an award winning children's author and illustrator as well as, in his words, an 'archivist of human absurdity'. His story 'Moon Man' is a lyrical, sparsely worded, beautifully illustrated tale of the man in the moon's descent to earth and his strange and wonderful misadventures there.
Whilst on earth, he spends a spell in jail until he wanes sufficiently to squeeze through the bars of his cell, discovers flowers and birds, dances with a merry crowd, is chased by the police and makes the acquaintance of an eccentric scientist who eventually helps him to return to the moon in a spacecraft he has created. Once safely back in his seat in space, Moon Man has satisfied his curiosity, happy to observe from afar once again.
This is a beautiful, timeless tale which will delight children of all ages. I was also very excited to discover that a ninety-minute film had been made which, I think, looks pretty good and I can't wait to watch it with my children. Click on the trailer below to have a little look.
https://rebeccastonehill.com/wp-content/uploads/IMG_14441.jpg
4071
2784
Rebecca Stonehill
http://rebeccastonehill.com/wp-content/uploads/mtbsdpgw.bmp
Rebecca Stonehill
2014-09-23 13:12:04
2014-09-23 13:12:04
Moon Man by Tomi Ungerer